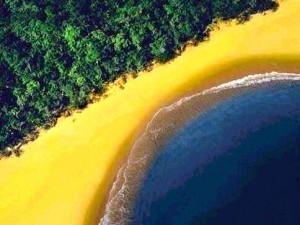 There are a lot of websites for learning Portuguese out there. This isn't one of them. This is a website about how to learn Portuguese, as intelligently and efficiently as possible. Hacking Portuguese refers to hacking in the sense of "any sort of trick, shortcut, skill, or novelty method to increase productivity and efficiency". Recently, some linguaphiles on the web have been applying the art of hacking to language learning. On this site, we'll look at how we can apply these techniques to learning Portuguese in particular.
Because hacking any language involves having the right tools and resources at your disposal, much of this site is dedicated to collecting and reviewing the resources that are out there. I've spent the last 3.5 years obsessively combing through every book, audio course, app, video, podcast, and blog I could find in my own journey to become fluent in Brazilian Portuguese. This website is the result of all that effort, a place to share with you those resources that I've found to be indispensable for motivated learners. I hope the tools here will be useful for both intermediate students who want to reach fluency faster, and for beginners wondering where to start. I'll also apologize up front that though the name of this website is not Hacking Brazilian Portuguese, there is a deep Brazilian bias to this site that reflects my own love of Brazilian culture.
So what's so great about Portuguese?
Portuguese is one of the world's most beautiful and expressive languages, spoken by 300 million people in Brazil, Portugal, five African countries, three southeast Asian principalities, and Brazilian expat communities throughout North America, Europe and Japan. It is a truly international language, the fifth or sixth most spoken in the world depending on how you count, with two main dialects (Brazilian and European) and numerous creoles with African languages. It's the most spoken language in South America (nope, not Spanish!) and, in fact, in the entire southern hemisphere: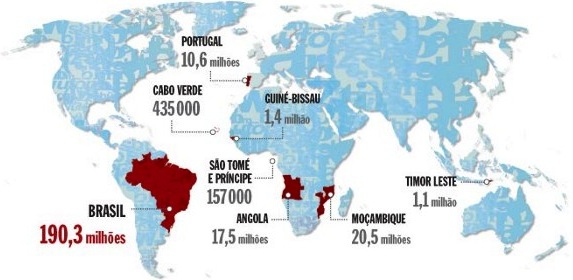 While similar to Spanish in many ways, it has a distinctly different sound and grammar, which render it only semi-intelligible to Spanish speakers. The sound of the language varies widely between Portugal, Africa, and the different regions of Brazil. Have a listen to some of these diverse sounds of Portuguese: Alice Sant'Anna (Rio de Janeiro) , Caetano Veloso (Bahía, Brasil) , Seu Jorge (Rio de Janeiro) , Marina Silva (Acre, Brasil) , Cesária Évora (Cabo Verde, West Africa), Amália Rodrigues (Lisboa, Portugal). Here's a bonus clip of the late Cesária singing in criolo, a Portuguese creole language that is the vernacular of Cabo Verde, an island nation off the coast of west Africa.

With Brazil poised to become the world's first 'developed' nation in the tropics, Portuguese is becoming an increasingly important language for business, tourism, urban studies, environmental studies, and fans of Brazilian arts like samba and capoeira. Rio de Janeiro — already famous as the cultural capital of Brazil, home of samba, bossa nova, Christ the Redeemer, Sugarloaf Mountain, Ipanema beach, favela culture, Maracanã football stadium, and Carnaval — will be even more in the spotlight when it hosts the World Cup in 2014 and the Olympic Games in 2016. The Amazon basin, the majority of which lies within Brazil, has global importance as a reservoir of cultural and biological diversity, as a major front in the debate over sustainable development, and as a crucial bastion against climate change.
A roadmap to fluency in Portuguese
When I first started learning a bit of Portuguese in 2009, little did I know that I would fall in love with it so much that two years later I'd be reading newspapers, writing blog posts, and chatting with Brazilian friends entirely in Portuguese. Little did I realize how bit by bit it would become a major part of my life, like playing music.
Learning a language has its challenges. There are every day hundreds more books, podcasts, youtube videos, iPhone apps, audio courses, blogs, social websites, desktop apps claiming to be able to teach us a new language. How do we sort through this mess, this information overload? How do we choose the best resources and create an actual plan for learning instead of spending all our time finding out what works and what doesn't?
Since I began studying Portuguese, I've learned that there's a lot of junk out there, and a lot of people out to make a quick buck from other people's desire to learn a language. But there are also a few people and companies that have dedicated themselves to producing high-quality resources that can be invaluable for a self-learner.
This website is essentially what I wished I'd had when I started out: a roadmap to learning Portuguese. Instead of carving up the content into a million blog posts, I've decided to publish a small number of very comprehensive articles so that everything is well-organized and easy to find. Every page is constantly updated as I find and review new resources and integrate them into my own learning. On the blog, I'll document my own journey through the language, posting about new things I learn, personal challenges, and philosophical musings on language learning. Aproveite!